A small, boutique agency that helps small and medium-sized non-profits, B2B and B2C companies build their brand and boost their bottom-line.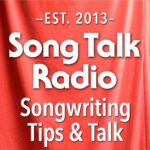 An "inside-baseball" format weekly Podcast and Radio Show (on CJRU 1280AM Toronto) where songwriters talk about all the fidgety-bits of writing songs. Also, have theme shows where we talk about songwriting-related movies and tips and junk.

(Formerly The Songwriters Cafe, The Songwriters Meetup). I first went to this about a decade ago. Started hosting not too long after. The podcast grew out of this.
Songwriters meet once a month in a bar to present songs-in-progress and get supportive but useful feedback from other songwriters. Now being held via Zoom.
I'm the past president of a B2B business networking group. We meet every Thursday from 7:30am – 9:00am. Now on Zoom, hopefully in person someday (I miss the bacon).
Original Music at SoundCloud
You can find some of my original songs at my SoundCloud page.
The Noise
I have some stuff still on my old personal page. Some into from the old Korg-M1 Mailing list from back in the day as well.
https://thenoise.ca
The Parkdale Hookers
I played bass and shared songwriting and vocal responsibilities with the very talented Mark Jeftovic.  Kinda power-pop punk stuff with a corporate edge.
Playing Guitar with Mumbo Jumbo Shrimp
These awesome people asked me to join them for a fun show: